How are your clients Doing? How are you doing?
Barry LaValley and Dr. Gillian Leithman, and myself shared thoughts on three vital skills. Hundreds of advisors attended the meeting. Below is a description of the content and a link to the video.
CSI Video Replay
Barry LaValley – 4:58
Gillian Leithman – 29:29
Lloyd Williams – 1:07:55
Personal Stress Management
Advisors can only help their clients to the degree that they are whole themselves. Healthy practices help address the root causes of anxiety, fear, and resistance. Each advisor redirect their energy and start again to engage in a positive direction.
Client Relationship Management
Advisors must engage with clients in face-to-face communication—online or live. Moving their focus from performance to dreams. And then maximize the great opportunity that lies before them.
Practice Management
We discussed the difference between "client years" and "prospect years." Why performance today is irrelevant in the grand scheme of things. How and what to say to identify their "real" clients. How to gather more assets this year than they have in any year of their career. Each advisor left the call with specific next steps and actions. Avoid directing all your attention to the wrong households. Don't miss the opportunity possible in the lives of your clients and practice.
CSI plans on hosting a followup presentation focused on Practice Management next week. Subscribe to receive details for registering.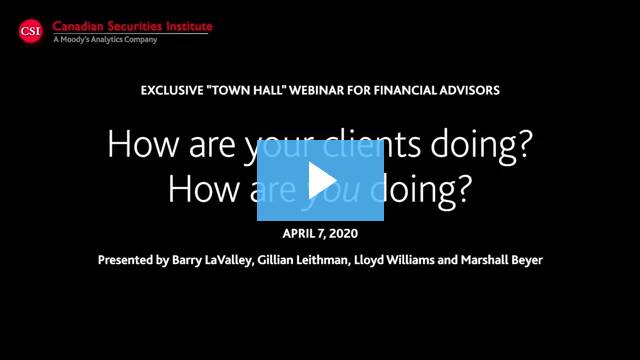 CSI Exclusive Town Hall Webinar | Canadian Securities Institute
The

Highly Effective Strategy

To Adopt the Mindset & Techniques of Professional Traders to Deliver Superior Performance in Any Market Condition
FREE VIDEO REVEALS ...


how professionals avoided the 2020 correction and how you can learn to Trade Like A Pro.